Tackling atopic dermatitis from all angles
Published on: October 10, 2023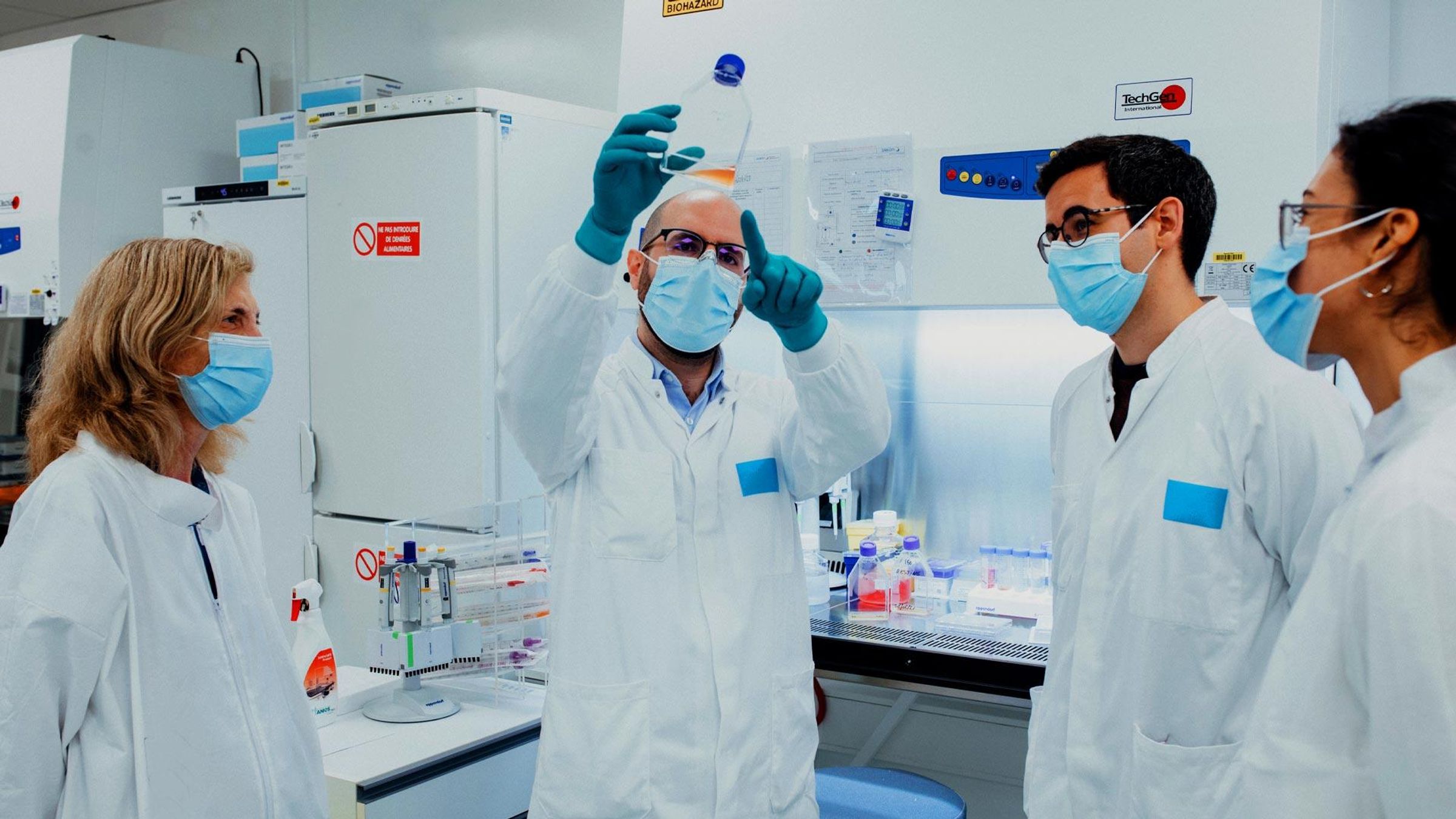 A conversation with three Sanofi physicians on a quest to bring new first and best-in-class medicines to people suffering from atopic dermatitis and other debilitating skin conditions caused by chronic inflammation.
Trapped in one's own skin
For Dr. Karl Yen, Global Project Head at Sanofi, atopic dermatitis (AD) is personal.
"As a pediatrician and a father to a child with AD, I've experienced first-hand the effect that this disease can have on both a patient and their family. Imagine having a full-body rash that won't go away, not being able to sleep at night because of severe itching or waking up every morning with blood on your pajamas and sheets from scratching. It takes a real toll on your life."
When Carlos Peralta, VP, Global Head of Dermatology for Sanofi, started his career as a dermatologist, there was little he could do for the people who came to his office with the debilitating symptoms of AD: dryness, cracking, pain, redness, and crusting and oozing of the skin. For decades, the mainstays of treatment remained skin moisturizers and topical steroids; for both Drs Yen and Peralta, it was tremendously gratifying to join Sanofi's quest for new therapies.
Transforming care in atopic dermatitis
A lot has happened in the past years to address unmet patient needs. There has been a major shift in scientific research toward understanding AD as a systemic, chronic inflammatory disease, primarily driven by type 2 inflammation. Together with our partner Regeneron, Sanofi brought the first biologic therapy for AD to the market, targeting specific cells that play a role in the underlying immune response.
"With the availability of these new treatments, general awareness of AD has improved too and patients found their voice to ask for effective treatments," says Carlos. "This is incredibly motivating."
Our contributions to AD care go beyond what happens in the labs. We have embarked on additional research on how AD disrupts the skin barrier, sleep patterns, or the unique considerations for patients with skin of color to contribute to the development of treatment options tailored to the specific needs of different patients.
The vision is clear: To change the future of immunology
Our quest continues. While we have made significant strides, there are still many patients who don't respond well to existing therapies or need treatments that better fit into their everyday lives.
"Understanding AD as a complex immunologic disease helps us explore new, disruptive pathways. Today, newer approaches are looking into disease modification and resetting the immune system" says Naimish Patel, Head of Development for immunology and inflammation at Sanofi. "We want to change the future of AD and immunology."
"Today, Sanofi researchers are looking beyond type 2 inflammation to discover new solutions for patients with mixed inflammatory responses. For example, my team is pursuing OX40-Ligand, a key immune regulator, as a target to stop inflammation at its root," says Karl.
At the same time, we have a dozen novel molecules in the clinic being studied for similar life-improving advances for people with other inflammatory skin conditions, including chronic spontaneous urticaria (chronic hives) and psoriasis. 
More than two decades later, Carlos is still in contact with some of his patients, "Having an effective treatment has been a life-changing experience for them", says Carlos. "Our commitment to developing first and best-in-class medicines is dedicated to them." 
Find out more about immunology and inflammation research
References
Eichenfield, Lawrence F., et al. Guidelines of care for the management of atopic dermatitis: section 1. Diagnosis and assessment of atopic dermatitis. J Am Acad Dermatol 70.2 (2014): 338-351.  
National Institutes of Health (NIH). Health Topics: Atopic Dermatitis. Available at: https://www.niams.nih.gov/health-topics/atopic-dermatitis. Last accessed June 2021.  
Yosipovitch G, Papoiu AD. What causes itch in atopic dermatitis? Curr Allergy Asthma Rep. 2008 Jul;8(4):306-11. 
Kaufman BP, Guttman-Yassky E, Alexis AF. Atopic dermatitis in diverse racial and ethnic groups-Variations in epidemiology, genetics, clinical presentation and treatment. Exp Dermatol. 2018 Apr;27(4):340-357. 
Chang YS, Chiang BL. Sleep disorders and atopic dermatitis: A 2-way street? J Allergy Clin Immunol. 2018 Oct;142(4):1033-1040. 
Schonmann Y, et al. Atopic Eczema in Adulthood and Risk of Depression and Anxiety: A Population-Based Cohort Study. J Allergy Clin Immunol Pract. 2020 Jan; 8(1): 248–257.e16 
Zuberbier T et al. Patient perspectives on the management of atopic dermatitis. J Allergy Clin Immunol. 2006 Jul;118(1):226-32.