Sanofi's commitment to society is long-term, and a longstanding legacy. Our commitment translates into a set of actions to make a positive impact on the lives of people and communities around the world.
Philanthropy is an integral part of our approach to address the health needs of vulnerable populations in countries around the world. 
In recent years, partly through the former Sanofi Espoir Foundation, we have focused on improving outcomes for children living with cancer and donating our products in crisis situations, when and where they are needed most.
But today, we see new challenges, and so we are renewing our commitment to continue to serve future generations. This engagement focuses on where we can have the greatest impact and where we can scale up and sustain our efforts over time.
With this spirit, we are proud to present Foundation S – The Sanofi Collective, the new philanthropic organization of Sanofi, which was launched in May of 2022.
What are the aims of Foundation S?
Foundation S seeks to create healthier futures for generations to come by supporting innovative ideas,, working in collaboration with global, regional and community  partners,  and supporting concrete community led programs.
Through a "Think & Do Tank" approach, Foundation S works with experts, partners and colleagues around the world to assist people during times of crises through humanitarian aid and medicine donations and by focusing on three commitment areas:
Childhood cancer: Supporting the WHO ambition to reduce childhood cancer by 60% by 2023
Climate Action & Health Resiliance: Supporting vulnerable communities adapt and build sustainable health resilience to the impacts of climate change 
Sleeping Sickness: Support the global WHO ambition to eliminate sleeping sickness, a neglected tropical disease that continues to impact the lives of people living in remote regions in Africa, by 2030 
To realize these ambitions, Foundation S – The Sanofi Collective is structured as follows:
The Foundation's "Think Tank" brings together the best minds to channel societal expectations and address critical gaps in global health. They will guide our actions, particularly in our focus on increasing health resilience of climate vulnerable populations
The "Do Tank" serves as an internal 'lab' to pilot new ideas and share the expertise of our greatest asset, our employees, with organizations around the world 
Foundation S will also serve as a social incubator for innovative public health projects in our key areas, to enable deployment on a larger scale. 
We cannot change the world on our own – intelligence of the heart can only be collective. The launch of Foundation S is the culmination of joint ideas and forces. Collaborating with diverse and multicultural partners and our people, the Sanofi Collective combines our energy and expertise to deepen our impact for communities in need.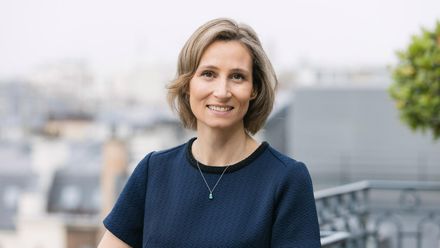 Vanina Laurent-Ledru
Head of Foundation S