CEACAM5: A Potential Target in the Fight Against Lung Cancer
Published on: June 15, 2020

Lung cancer is one of the most common forms of cancer and a leading cause of cancer-related death in both men and women.1 But it's not a single disease: "lung cancer" is a collection of many different diseases, each of which has its own molecular target, or constellation of targets. Understanding those targets is mission critical for cancer researchers. It helps them design drugs that balance efficacy and toxicity, and anticipate mutations in the cancer that could lead to treatment resistance.
Our lung-cancer R&D teams, together with partners at Immunogen, Inc., have been investigating a molecular target on the surface of some lung tumors2called CEACAM5 (carcinoembryonic antigen-related cell adhesion molecule 5): a protein that could be targeted by antibodies. The team is using their knowledge of antibodies to develop an anti-cancer drug that makes a beeline for CEACAM5.
Antibody-Drug Conjugates: a GPS for cancer drugs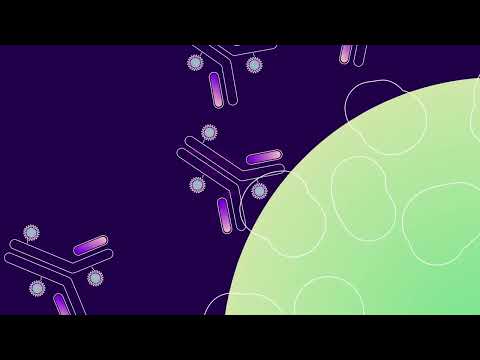 Antibody – Drug Conjugates: watch a short animation about antibody–drug conjugates to learn why they're so important in cancer research..
Chemotherapy affects the whole body, which means it can damage both cancer cells and healthy ones. To reduce the resulting side effects, researchers are exploiting the ability of antibodies to home in on a specific molecule in the body. Called "antibody–drug conjugates" (ADCs), these therapeutics are designed to carry a chemotherapy drug to a specific protein on a tumor cell.
ADCs are like a vehicle that delivers a package (in this case, a chemotherapeutic agent) to a tumor's doorstep. That kind of precision reduces the amount of drug needed to affect the tumor, which could mean smaller, less-toxic quantities of the drug in the body.3  
Most ADCs are designed to target blood cancers,4 but we're investigating their potential for lung and other non-blood cancers.
Finding the right target: CEACAM5
The CEACAM5 protein is more abundant on tumor cells compared to normal cells. While its expression in normal tissue is limited, it's highly expressed in some tumor types, including colorectal, gastric, and breast cancer.5,6 And around 25% of patients with non-squamous non-small cell lung cancer have high expression of CEACAM5.7
The challenge? Other "CEA" proteins – ones that are similar to CEACAM5 – are also expressed on the surface of some healthy tissues.8
Our teams have risen to the challenge, designing an investigational, anti-CEACAM5 medicine that's very specific to its target. 
"We have a long history of developing cytotoxic molecules, so for us it was a natural evolution to develop ADCs," said Stephanie Decary, Group Leader on the Antibody Drug Conjugates and Immuno-Oncology Research team at Sanofi.
First, Decary's team studied how an ADC could be internalized by the CEACAM5 protein before dropping its payload in the lung tumor cell. Then, they designed a monoclonal antibody that could attach to CEACAM5 without binding to similar CEA proteins. 
Because it's an ADC, their investigational medicine avoids inadvertently hitting similar CEA proteins on normal tissues. And thanks to a "linker" molecule that keeps the ADC stable as it circulates in the blood, it's designed to only release its drug once it's entered the target cell.9
The team found that when the level of CEACAM5 expression was high, the anti-cancer drug could get into cells and initiate tumor-killing activity – even when the rate of internalization was only "medium".10
"It was a really exciting and magical moment," Decary said. "Most cancer patients are diagnosed after the disease has spread, and they undergo difficult systemic therapies. We knew we were working for a very vulnerable and in-need population of patients, and we were challenged to develop this compound urgently."11
Disclaimer: The CEACAM5 candidate referenced in this article is an investigational compound that has not been evaluated for safety and efficacy in humans by any regulatory authority.
References
American Cancer Society (2020) Key Statistics for Lung Cancer. Accessed 27 May 2022 at https://www.cancer.org/cancer/lung-cancer/about/key-statistics
Kuespert K, et al. (2006) CEACAMs: their role in physiology and pathophysiology. Curr Op Cell Biol 18:565-571; doi: 10.1016/j.ceb.2006.08.008
Lambert JM, Morris CQ (2017) Antibody-Drug Conjugates (ADCs) for Personalized Treatment of Solid Tumors: A Review. Adv Ther 34:1015‐1035; doi:10.1007/s12325-017-0519-6
Birrer MJ, et al. (2019) Antibody-Drug Conjugate-Based Therapeutics: State of the Science. J Natl Cancer Inst 111:538‐549; doi:10.1093/jnci/djz035 
Hammarström S, et al. (1999) The carcinoembryonic antigen (CEA) family: structures, suggested functions and expression in normal and malignant tissues. Semin Cancer Biol. 9:67-81; doi: 10.1006/scbi.1998.0119
Shirasu N, Kuroki M (2016) Atlas of Genetics and Cytogenetics in Oncology and Haematology. Accessed online 27 May 2022 at http://atlasgeneticsoncology.org/Genes/CEACAM5ID40047ch19q13.html
Zhang X, et al. (2020). CEACAM5 stimulates the progression of non-small-cell lung cancer by promoting cell proliferation and migration. J Intl Med Res 48: 300060520959478; doi: 10.1177/0300060520959478
Kuespert K, et al. (2006) CEACAMs: their role in physiology and pathophysiology. Curr Op Cell Biol 18:565-571; doi: 10.1016/j.ceb.2006.08.008
Sharkey RM, et al. (1990) Murine monoclonal antibodies against carcinoembryonic antigen: immunological, pharmacokinetic, and targeting properties in humans. Cancer Res. 50:2823‐2831
Decary S, et al. (2015) A novel anti-CEACAM5 maytansinoid-antibody-drug conjugate for the treatment of colorectal, lung and gastric tumors. [abstract]. In: Proceedings of the 106th Annual Meeting of the American Association for Cancer Research; Philadelphia, PA: AACR; Cancer Res 2015;75(15 Suppl):Abstract 1688. doi:10.1158/1538-7445.AM2015-1688
Zappa C, Mousa SA (2016) Non-small cell lung cancer: current treatment and future advances. Transl Lung Cancer Res 5:288‐300; doi:10.21037/tlcr.2016.06.07
MAT-GLB-2000591 v 2.0 – 6/2022 Last updated June 2022