Employees do More to Protect the Planet
Published on: June 8, 2023

Meet the Tribe, a 2,500-strong employee network whose energy and creativity are driving new ways to make Sanofi's sites and activities environmentally sustainable. Launched in 2020, the network of green ambassadors is made up of employees from all aspects of the business across 77 countries. We dedicate €3 Million every year, turning their ideas into actions that help reduce our environmental footprint.
"The Planet Care Challenge is a great opportunity to tap into the entrepreneurial spirit of our own people when it comes to reducing our environmental footprint. Each year, Sanofi pledges €3 million to turn employee-generated ideas into real solutions that help strengthen our commitment to caring for our planet. From climate change to waste management, water stewardship, biodiversity and more, the initiatives born out of the Planet Care Challenge have already made a big impact on how we interact with our environment, and I'm excited to see what the next group of Challenge winners has in store," said Paul Hudson, Chief Executive Officer.
The Sanofi Environment Fund threw down the gauntlet for the intrapreneurial community to brainstorm ideas, from small, every-day habits to local initiatives, and ambitious global goals.
Our 2023 employee initiatives
As part of our third edition of the Planet Care Challenge, we've engaged our teams across the world to come up with ideas to protect the planet with a special focus on existing challenges on biodiversity, climate change, eco-design, energy, pharmaceuticals in the environment, waste management and water stewardship. Out of the 161 innovative ideas received, 7 projects will be financed and implemented.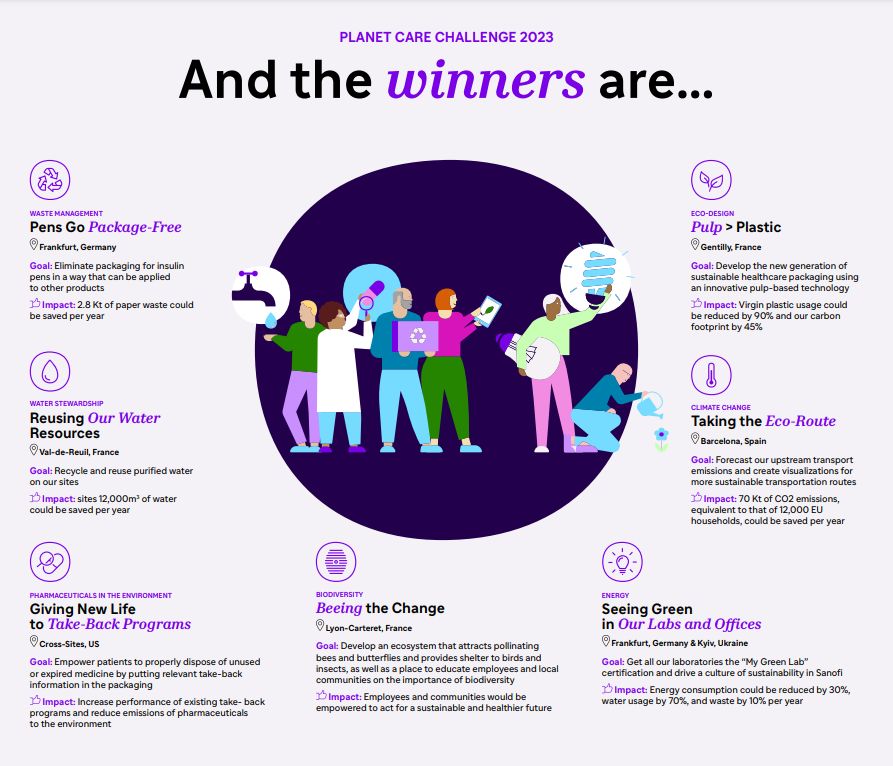 Our 2022 employee initiatives
17 of the most promising environmental projects from Australia, Brazil, Canada, China, France, Germany, Hungary, India, Mexico, and Vietnam received financing to help us deepen our commitment to society and care for the planet. From working with suppliers to change paper policies, to transforming 30,000m² of unused green space into the very first Sanofi Planet Care Center, our 2022 projects are tackling important issues and helping us get to a cleaner future, faster.
Biodiversity
Design sustainable eco-gardens to enhance biodiversity, and foster nature-based solutions to maintain green spaces on our sites
Climate change
Develop alternative transportation and carpooling options for sustainable commuting. Improve data collection to identify where to reduce our energy consumption
Waste management
Reduce paper usage and work towards creating paperless ways of working
Water stewardship
Harvest and recycle rainwater to reuse at our sites
Our 2021 employee initiatives
Of the 161 novel ideas pitched to reduce Sanofi's environmental footprint, three teams from France, Belgium and Italy, Vietnam, and Ireland are seeing their projects financed and implemented on Sanofi's sites with the objective of replicating these pilot projects worldwide.