The Journey to Eliminate Sleeping Sickness
Published on: June 17, 2020
After 20 years in development, the new oral drug fexinidazole for the treatment of  Human African Trypanosomiasis, or sleeping sickness, has found its way to one of the first patients to receive the medicine, Guy Bongongo, a 12-year-old boy from the Democratic Republic of Congo (DRC), the country most at risk from the disease.
Contracted from a parasite transmitted through the bite of a tsetse fly, sleeping sickness can prove fatal if not diagnosed and treated in time. 
Developed by Sanofi in partnership with the non-profit organization, Drugs for Neglected Diseases initiative, the treatment for this neglected tropical disease (NTD) will play a key role in achieving the World Health Organization's (WHO) global target of eliminating the disease by 2020. Sanofi donates fexinidazole to the WHO for distribution.
The latest figures show an encouraging downward trend in sleeping sickness infections. In 2018, 977 cases of sleeping sickness were reported, down from 2,164 reported cases in 2016.1
As the WHO sets out its 2021-2030 roadmap for NTDs in a virtual webinar on June 17, Luc Kuykens, Senior Vice President of Sanofi Global Health Programs, will participate in a discussion on "Partnerships, Collaboration & Integration for Impact: The Key to 2030 success?", and will share Sanofi's journey of international collaboration, medical research and the logistical hurdles to deliver fexinidazole to remote populations in the DRC.
Fexinidazole is the first treatment indicated for both first-stage (haemo-lymphatic) and second-stage (meningo-encephalitic) disease and its oral tablet format has revolutionized how the disease is managed. Previously, patients could only receive treatment by travelling to specialized centers, often far from home, putting patients at risk of losing their jobs and livelihoods as well as placing a heavy financial burden on a country's healthcare systems. Today, trained healthcare workers can administer the 10-day course of drugs to patients in their local communities.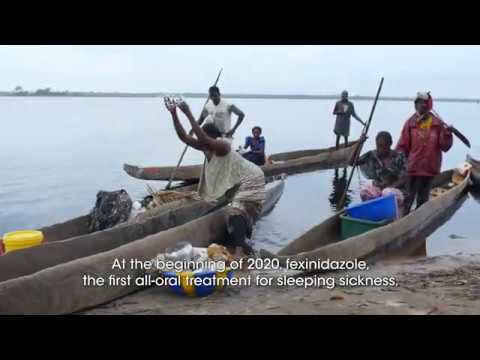 What are Neglected Tropical Diseases?
A group of communicable diseases that thrive in tropical and subtropical conditions in 149 countries, affecting more than one billion people, particularly those living in poverty, and costing developing economies billions of dollars every year. 
What is Sleeping Sickness?
Sleeping sickness, or human African trypanosomiasis, is a disease caused by a parasite called the Trypanosome brucei, transmitted by a bite from the infamous tsetse fly.
Sleeping sickness occurs in two stages:
Stage 1–The haemolymphatic phase includes non-specific symptoms such as headaches and bouts of fever, tiredness and muscular pains. This stage generally goes undiagnosed without active sleeping sickness surveillance. Without treatment, the parasite then invades the central nervous system triggering the second phase.
Stage 2–The later, neurologic phase occurs when the parasite crosses the blood-brain barrier and can lead to serious sleep disorders, paralysis, progressive mental deterioration, confusion and behavioral changes and, ultimately, without effective treatment results in death.