The Upshot Series #14
The Race Is on to Defeat Meningitis
Published on: October 5, 2022

Théo Curin, a meningitis survivor and para swimmer, was just six years old when he contracted bacterial meningitis. He was hospitalized for five months, and because of the severity of his condition his four limbs had to be amputated to save his life. Since then, Théo has overcome many mental and physical challenges and, at 22 years old, has already achieved more than many of us will in our lifetime. In fact, he was the youngest French para-athlete at Rio 2016, two-time World Championship runner-up in 2017, and won bronze at London 2019.
We are delighted to partner with Théo to spread the word about this vaccine-preventable disease. He's helping us raise awareness that diagnosing meningitis is a race against time: knowing the signs and symptoms – and recognizing them in yourself and others – is crucial for catching it in time.
Théo wants to inspire all those who have and have not been affected by meningitis to believe in your dreams and let them drive you.
Make your difference your strength. Don't allow anything to ever hold you back! You must chase your dreams and take on challenges. If you can channel the right mindset and a positive attitude to reshape your world, success will follow.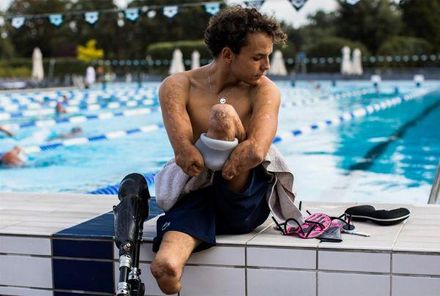 What you need to know about Invasive Meningococcal Disease
We can all play a part in the global effort to defeat meningococcal meningitis. Here's what you need to know.
Invasive Meningococcal Disease (IMD) is a type of bacterial meningitis preventable by immunization and is a public health challenge across the world. It claims lives and leaves many survivors (up to 20%) with permanent disabilities.1,2 Though IMD mainly affects children under five, adolescents, and young adults, it can affect anyone at any age.1,3
Even though vaccines are available to help protect against key strains of the bacteria that can cause meningococcal disease, the fight against this infectious disease lags behind many others.4,5 The biggest challenges are lack of awareness and knowledge of the importance of vaccination, and inconsistent access to effective vaccines in many parts of the world.
Most IMD cases can be prevented with vaccines. Vaccines are available that can help protect against 5 of the most common types of the bacteria that can cause meningococcal disease; serogroups A, B, C, W and Y.1,2
Meningococcal meningitis can have devastating consequences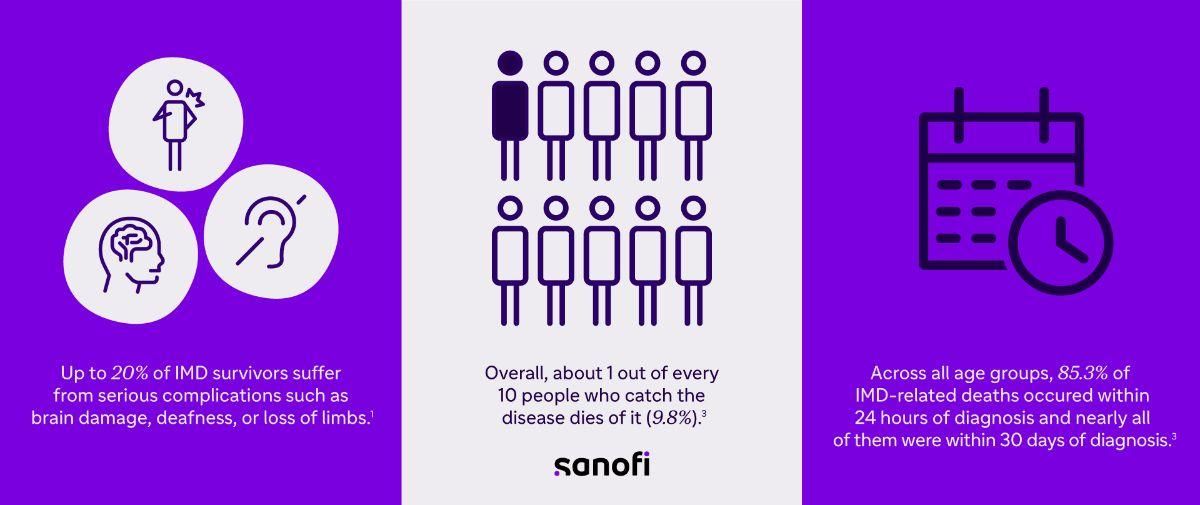 What's being done to defeat meningitis?
Recognizing the significant impact of meningitis, the World Health Organization (WHO) has initiated a worldwide call-to-action to defeat meningitis by 2030.
The WHO roadmap for this initiative includes three visionary goals:
Eliminate bacterial meningitis epidemics.
Reduce cases of vaccine-preventable bacterial meningitis by 50% and deaths by 70%.
Reduction of disability and improvement of quality of life after meningitis due to any cause.
How are we playing our part to defeat meningitis by 2030?
We are key partners in the global fight to defeat meningitis by 2030. Here's what we're doing.
1. Scientific innovation and research
We're doubling down on our commitment. We're innovating to continuously improve our meningococcal vaccines and expand their availability worldwide. Over the past 45 years, we've significantly advanced vaccine development and continue to innovate in our ongoing efforts to advance protection against this potentially life-changing disease.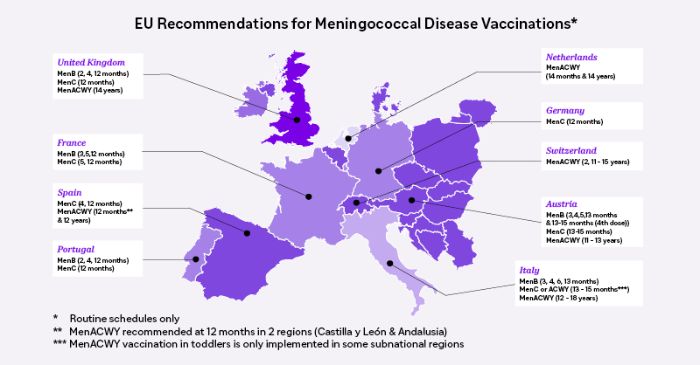 The incidence of IMD caused by the hypervirulent serogroup W increased, spurring several countries to introduce MenACWY conjugate vaccination into their routine vaccination schedules.6 But inconsistent roll-out of vaccination programs between countries leaves room for outbreaks in unprotected and vulnerable populations.2,6,7
2. We join the WHO and the Meningitis Research Foundation in calling for greater access to effective vaccines
We advocate for the inclusion of effective meningococcal vaccines in national immunization programs and recommendations. That's the best way to reduce risk worldwide. This case is made stronger with the availability of new and innovative meningococcal meningitis vaccines.
3. Knowledge is power
Parents must have access to up-to-date, accurate information on current meningitis risks – but misinformation can hinder progress. Knowing how to recognize the signs and symptoms of meningitis, and what vaccine options are available, is crucial for protecting themselves and their families.
Click here to find out more about meningitis signs and symptoms.1
Working together, we can defeat meningitis by 2030. But we must act now. Thomas Triomphe comments: "In the race to defeat meningitis, we all have a part to play. Meningitis can be a devastating disease, but it can be avoidable. Let's prevent the preventable for a brighter future for all. What part will you play?"
MAT-GLB-2204157 v1 09/2022