Global Hemophilia Survey Captures the Voice of Patients, Caregivers, and Providers
Published on: October 6, 2023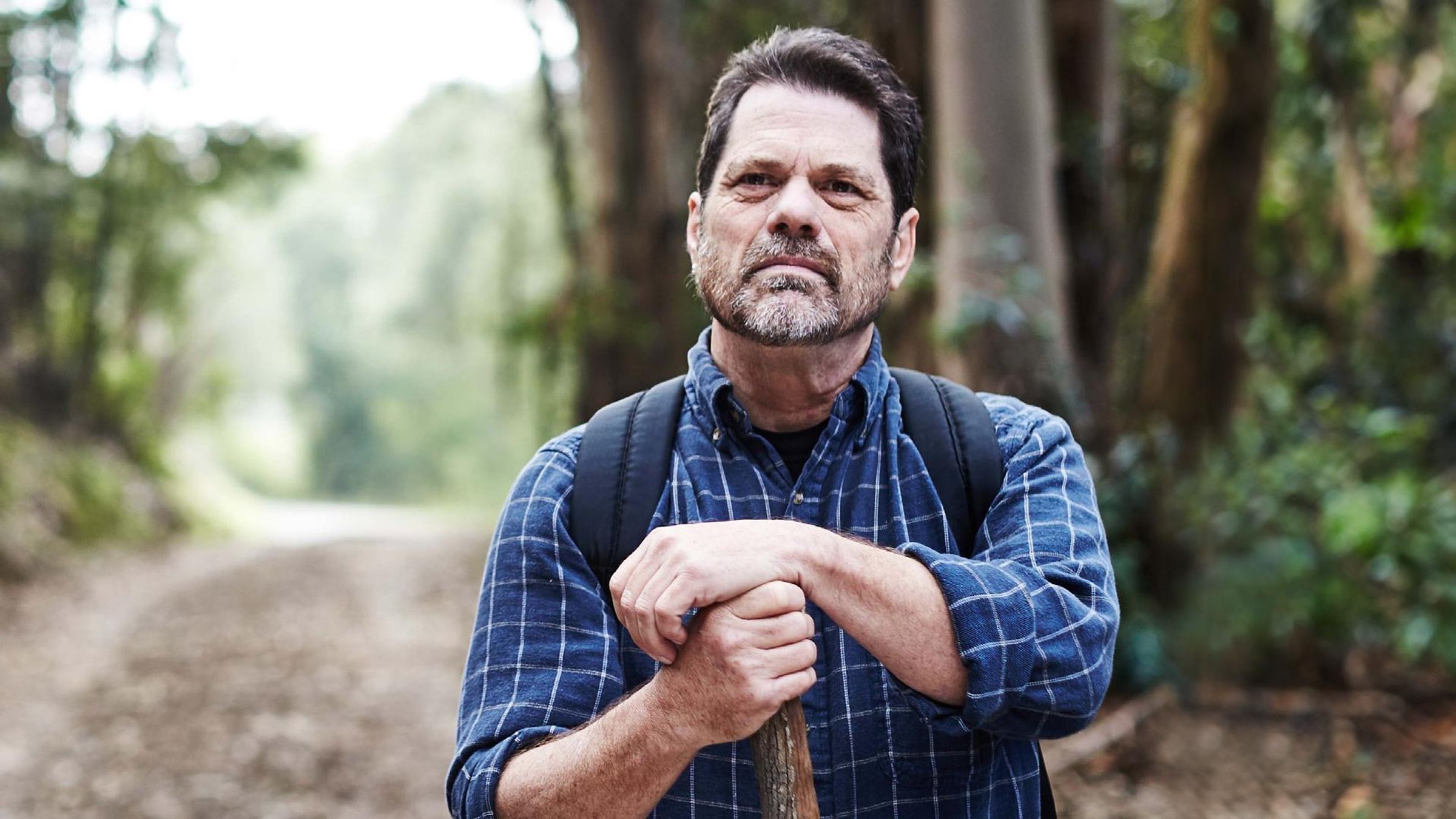 Key data and insights uncover unmet needs and opportunities to advance standards of care for people living with hemophilia. 
Hemophilia is a rare, lifelong condition in which the ability of a person's blood to clot properly is impaired, leading to excessive bleeds and/or spontaneous bleeds into joints, muscles, and soft tissues that can result in joint damage and chronic pain, and potentially impact quality of life. Globally, over 1 million people are estimated to have hemophilia, divided over the different types, and sustainable access to diagnosis and treatment remains a challenge for a large number of these patients. 
To better understand the impact of hemophilia on people living with the condition, their caregivers, and their providers (hematologists), Sanofi, in partnership with The Harris Poll, recently conducted a first-of-its-kind global survey — Hemophilia Life Stages and Changes. With 2,700 participants across 11 countries, the survey not only captured insights on what it's like to live with hemophilia day-to-day, but also throughout important life stages, including impact on the ability to travel, work, and relationships.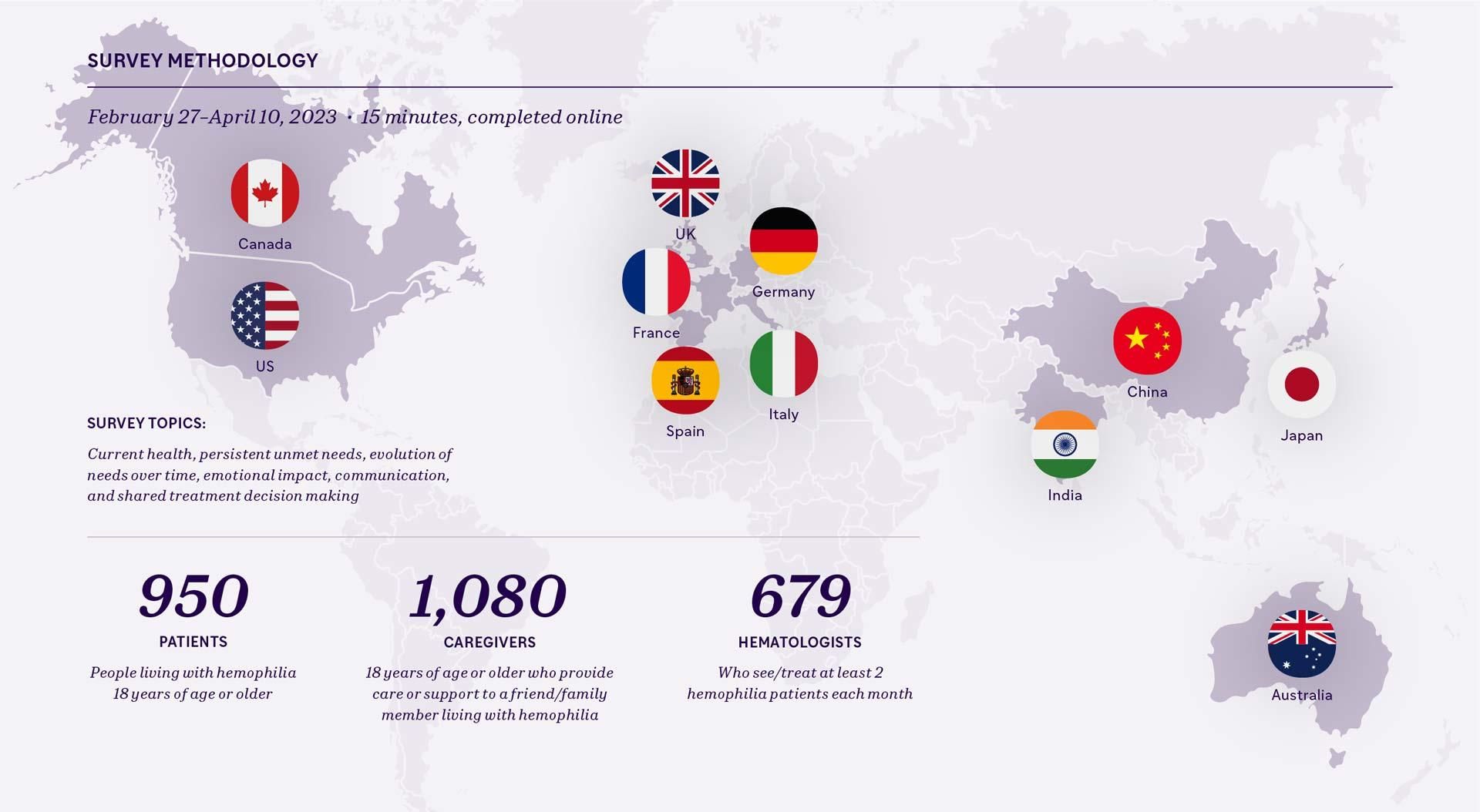 Sanofi global hemophilia survey methodology
The results of the survey provide valuable insights for caregivers, people living with hemophilia, healthcare professionals, policymakers, and patient organizations worldwide with the goal of driving action and dialogue that ultimately leads to innovative solutions to improve care for people living with hemophilia.
As a company deeply committed to the global hemophilia community, Sanofi wanted to hear directly from the people affected by this disorder about how hemophilia impacts critical stages or aspects of their lives. It is through this type of listening that we can better understand unmet needs.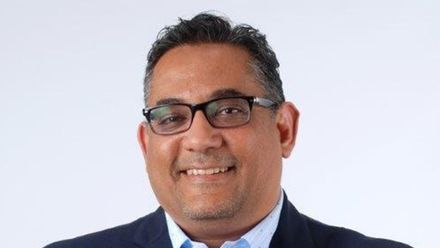 Alaa Hamed
Global Head of Medical Affairs Rare Diseases
What is the true impact of hemophilia across life stages?
One of the key findings that the survey uncovered is the communication gap between patients and their caregivers and providers about the array of physical and mental burdens that come with having hemophilia. Over half of those surveyed said they regularly hide their symptoms, and the weight of these symptoms is having a mental health impact. 59 percent of surveyed patients reported feeling anxious and 51 percent reported feeling depressed about once a week or more often.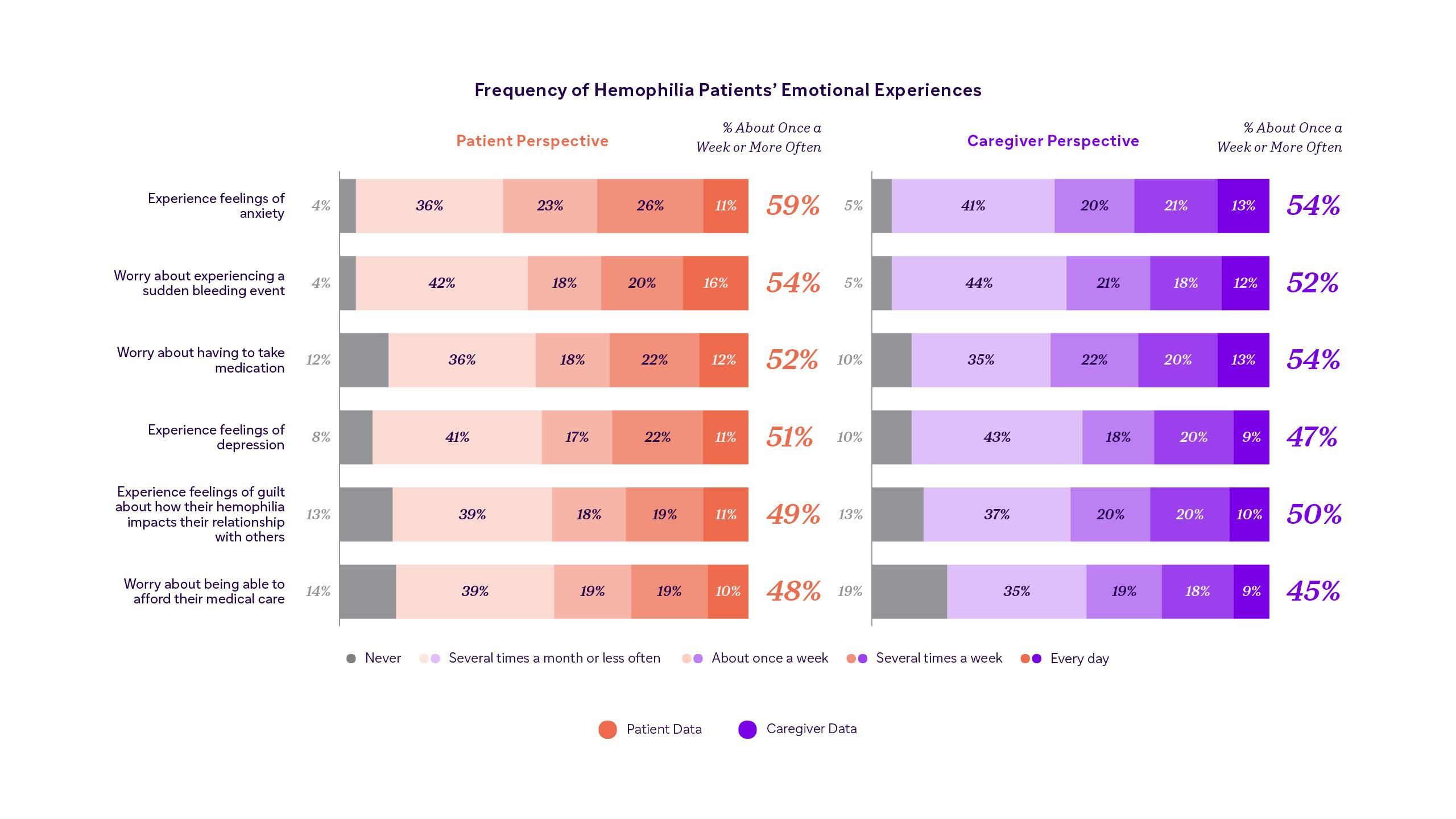 Survey chart 1
The survey also revealed how pervasive the limitations and ongoing struggles are for people living with hemophilia – from household tasks, work, and travel to social outings and relationships. For example, 41 percent of people living with hemophilia reported that they stopped participating in certain activities because of their hemophilia. Key life moments and stages were shown to be greatly impacted as well, with nearly one in four people living with hemophilia (22 percent) reporting that they postponed having children, and 18 percent decided not to have children.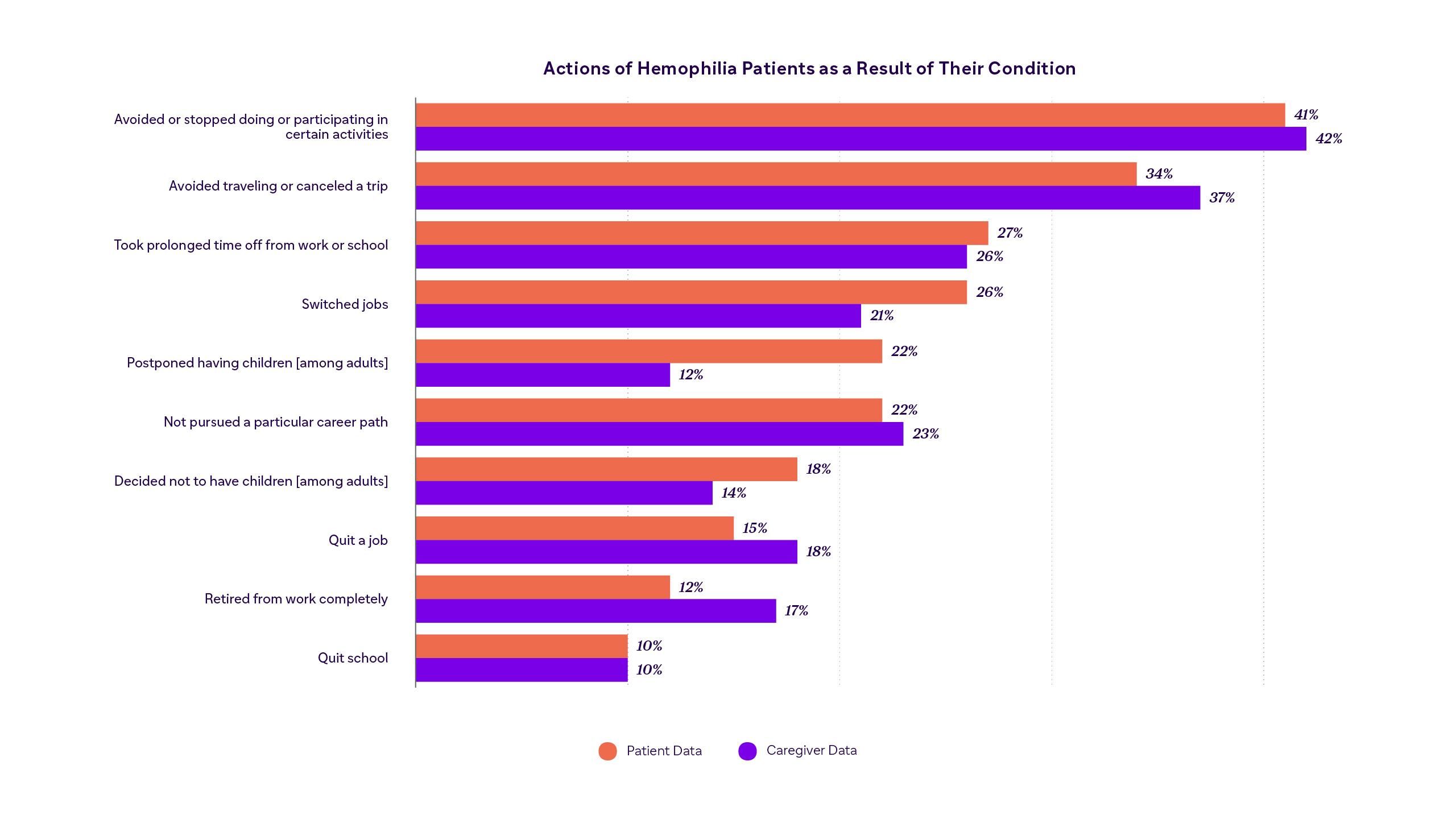 Survey chart 2
Regarding impacts in childhood, hematologists report that more than half (56 percent) of their pediatric patients reported avoiding participation in a school sport, and nearly half (47 percent) of their pediatric patients reported missing out on being able to participate in certain activities more than their peers because of their hemophilia.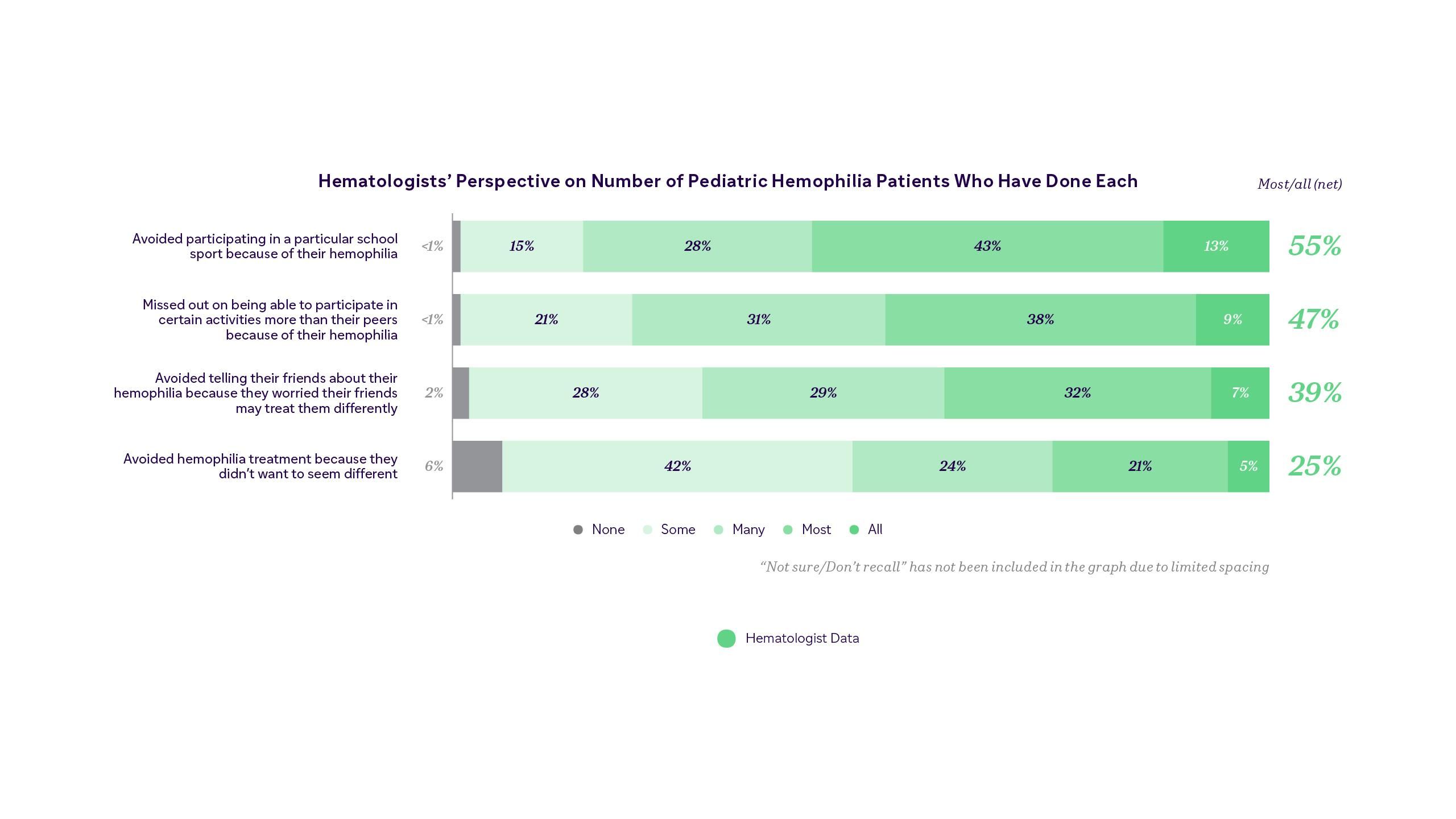 Survey chart 3
The survey also showed a disconnect regarding shared decision-making between patients and providers. 83 percent of those surveyed who are living with hemophilia expressed an overwhelming desire to play a more active role in their treatment. Only 35 percent of patients reported that they felt their hematologist involved them in discussions regarding the course of treatment.
Survey chart 4
Raising visibility and expanding understanding of hemophilia to propel care for all
We embrace the need to listen and learn from people throughout a global community who are impacted by this disorder at various stages of life. This survey is just one of many steps we are taking to understand the evolving needs of the hemophilia community so we can help address unmet needs. The goal is for the survey results to be used to drive dialogue that leads to optimized hemophilia care.
Listening deeply to the community helps us provide the right support at the right time so that people with hemophilia can focus less on living with this condition, and more on living the lives they choose.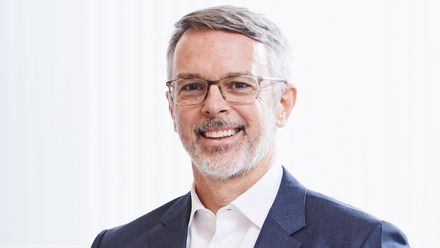 Tom Snow
Global Franchise Head, Neurology and Rare Blood Disorders
MAT-GLB-2304702 v1.0 9/2023