Inspired by Rare Disease Patients Around the World
Published on: February 26, 2021

Maria, a former ballerina who is also living with a rare disease, voices the challenges of living with a rare disease: "Pain is normal. My heart doesn't always work the way it should. This is an invisible disease. But we exist, and it hurts."
Around the world, approximately 300 million people live with one of the more than 7,000 rare diseases. Some, like Maria, feel invisible. To ensure that patients feel seen and the challenges they face are understood, it is critical their voices drive the conversation.
"People diagnosed with a rare disease are certainly not defined by the disease. They are students and siblings, friends and confidants, educators and advocates," said Shannon Resetich, Global Head of Rare Diseases at Sanofi. "Their voices, perspectives and life experiences are very important and by listening and learning from one another, we can improve patients' lives around the globe."
Join us as we take a virtual journey around the world—from Brazil to Kenya, Thailand, the United States and, Spain—Sanofi celebrates people living with rare diseases and the incredible work they do in the community. 
Anna – Brazil
When Anna was around nine months old, her mom noticed that she wasn't gaining weight and had an extended abdomen. Her healthcare providers suspected she might have a rare disease, but weren't able to make the correct diagnosis of acid sphingomyelinase deficiency (ASMD) type B until Anna was 23 years old. 
Anna had never heard of this rare disease and the lack of information was distressing. The only place she found information was through meetings with other families as part of Brazil's advocacy organization for people with ASMD. Now from her corner of the world, Anna advocates for people living with a rare disease to constantly seek information and help educate others.
Sharon – United States
Sharon understands what it means to make a mission out of loss. Three generations of her family have been impacted by a rare genetic kidney disease called Alport syndrome, including herself, her mom, brother, two sons and two nieces.
In 2004, Sharon's brother passed away from Alport syndrome at 38 years old. Realizing that little to no information or support existed, she co-founded the Alport Syndrome Foundation to let families like her own know they are not alone. Over the last 14 years, her foundation has connected thousands of people living with this rare disease all over the world from her home in the United States, which has led to the creation of an international network of clinical researchers dedicated to Alport syndrome and generated a research funding program to identify potential new treatments. Sharon's efforts have truly touched the globe.
Salomon – Kenya
In many parts of the world, including East Africa, a hemophilia diagnosis can have a significant psychological and physical impact on those living with this rare disease and their families, due to lack of access to predictable and sustainable therapy. For Salomon, who lives in Kenya, the daily kilometer walk to school is more challenging for him than for his classmates. He walks with a single donated crutch on dirt roads that often turn muddy after rainstorms. Sometimes, his mother carries him to school.
The World Federation of Hemophilia Humanitarian Aid Program has transformed how people living with hemophilia receive treatment in remote areas of the world. Providing sustainable access to therapy is important for physicians treating the condition, as well as for patients and their families.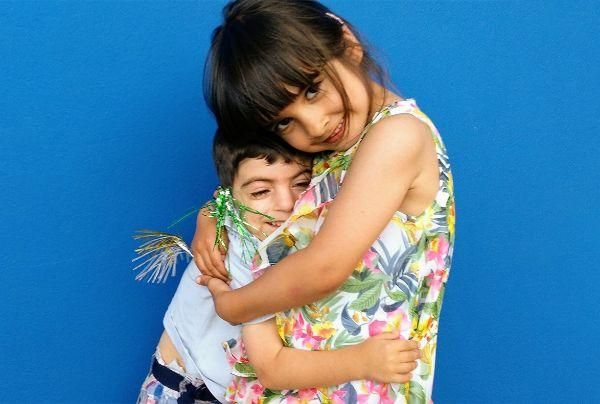 Pedro and Lola – Spain
The parents of Pedro and Lola, twins from Spain, feel that the hard times go by faster if you can look around and see smiles in the eyes of your family. Pedro was diagnosed with Cornelia de Lange Syndrome, a rare disease, and ever since, the family's mantra has been "smiling is living." Their father submitted this photo to show that mantra and capture their rare experience at Federación Española de Enfermedades Raras' (FEDER) ERes Arte virtual photo exhibit.
Pedro's family describes him as an example of overcoming and the twins are mirrors into the lives of each other, showing unconditional love and support. 
Tid – Vietnam
When Tid was only five months old, his family learned he had an unusually large heart. He and his family endured months of testing that eventually led to a diagnosis of Pompe disease, a rare disease that impacts muscles. Tid's family was worried about how they would care for him as he grew older and also hold down jobs to keep the family afloat. 
The family found support through Sanofi Genzyme's Humanitarian Program. The humanitarian aid program has resulted in the Vietnamese government forming a Rare Disease Committee to explore ways to provide care to people like Tid, who is now seven years old.
With these patient voices driving progress, a global ecosystem of patients, caregivers, advocates, healthcare providers, researchers, policymakers, and industry leaders have stepped up to begin addressing the many challenges associated with living with a rare disease. 
MAT-US-2101506 v1.0 02/2021