The AI Revolution in Drug Discovery: Transforming the Way We Develop New Therapies
Published on: February 23, 2023

As the head of R&D Data and Data Science at Sanofi, Eric Genevois-Marlin is leading the charge in harnessing the power of data, modeling and simulation, artificial intelligence and machine learning to transform practices in drug development at Sanofi. Under his direction, the team at Sanofi is pushing the boundaries of what is possible with AI in various spaces of drug R&D.
We believe AI is the gateway to the next generation of therapies," said Genevois-Marlin. "In particular, we've identified conditions in immunology and inflammation as areas of great opportunity. The challenge of developing new treatments for conditions such as atopic dermatitis and asthma is just one of the many in which we believe AI can offer game-changing aid."
Historically, the process of creating a new medicine has been a time-consuming and resource-intensive endeavor. Researchers must navigate through an infinite number of compound possibilities before designing the best option. Once the compound is identified, scientists conduct testing procedures to ensure the treatment is effective, safe, and durable. With appropriate data and AI models, this process could be accelerated dramatically, saving valuable time and resources and eliminating the bias that comes with human trial and error.
With AI models and complementary data sets in place, unique treatments for a wide array of patients could be developed rapidly," said Genevois-Marlin. "We're embracing the integration of AI in drug development at Sanofi and aim to develop innovative new ways to better understand biology, accelerate our pharmaceutical research, and ultimately deliver the right molecule to the right patient.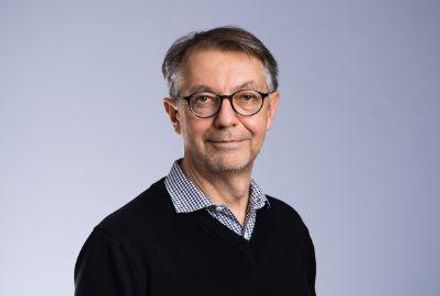 Eric Genevois-Marlin
Head of R&D Data and Data Science at Sanofi
However, for AI technology to do all these things, it needs a robust data collection on the disease of interest, the proteins involved, how different molecules interact with those proteins, and much more. Sanofi is working to address this need for more data with its internal processes to achieve a more comprehensive integration of high-quality, diverse data, to enable the use of AI models in drug discovery. 
Genevois-Marlin and his team, along with colleagues across research, development and digital teams, are collaborating across disciplines to discover and validate digital biomarkers of disease, further study small and large molecules, and analyze patient data from clinical trials and real-world datasets. By leveraging bioinformatics and omics data along with smart devices and wearables used in decentralized clinical trials, they are bolstering their growing data libraries.
Partnership and collaboration will also be key to achieving their ambitious goals in AI and research innovation. Sanofi has announced several exciting collaborations with leading biotech companies emerging in the AI space. By leveraging their collaborations with partners like Owkin, Exscientia, Atomwise, and Insilico Medicine, they are already working to develop new ways to accelerate drug discovery and ultimately benefit patients more quickly.
"The prospect of AI in research and drug discovery is one of limitless potential," Genevois-Marlin said. "With a combination of technological innovation, intentional data collection, and industry-wide collaboration, we might not be that far from machine learning models generating new molecules for patients in need." 
MAT-GLB-2300633-v1.0-02/2023