The Upshot Series #7
World immunization week: how vaccines continue to serve human progress
Published on: April 26, 2021
Governments, scientists, and biomedical industry have collaborated in an unparalleled way to produce and distribute multiple vaccines against a completely new pathogen in record time.
Although the immediate goal is to bring the COVID-19 pandemic under control, the process of developing new vaccines is contributing to new understanding that will reinforce and expand the scope of protection against more diseases and in more ways than before.
The innovations born out of the current crisis will give a boost to the progress vaccines have already made in human health
Thomas Triomphe
Executive Vice President and Head of Sanofi's Vaccines division
A boost in vaccine appreciation
Since the first vaccine against smallpox in 1796, vaccines have saved more lives than any other medical intervention.1 Global vaccination programs against smallpox in the 1970s led to a complete eradication of the disease; before the vaccine, nearly four million people–mostly children–died each year from smallpox. In the past 20 years alone, vaccination against several common infections has helped prevent 37 million deaths in low- and middle-income countries.2
"Whether run by individual countries or through global collaborations like the World Health Organization (WHO), broad vaccination against dozens of infectious diseases has taken leaps and bounds forward in recent decades," noted Triomphe.
Today, 86% of children worldwide receive routine pediatric vaccinations against diseases such as rubella, hepatitis B and several pathogens that cause meningitis, among others; in 1980, that number was only 20%.3 If current trends continue, vaccinations in low- and middle-income countries are estimated to protect another 32 million lives that would otherwise be lost by 2030.2
The WHO has also demonstrated how broad vaccination can help drive economic growth and economic equity, supporting developing countries to strengthen their health and social infrastructures.
Triomphe has witnessed this impact first-hand during overseas postings with Sanofi's vaccines business: "You can really see the difference within a couple of years' time when a region or country comes together to double-down on vaccination as a public health priority. Not only do vaccines help protect individuals and families against disease, the very act of putting in place vaccination programs helps bolster the reach of systemic preventive health interventions, ensuring greater and more equitable access to healthy life."
Taking vaccines further
"It's an old adage that each new generation should live better than the one before. We believe that promise will hold true in the future thanks in part to vaccines," added Dominika Kovacs, commercial head for Sanofi Pasteur's polio, pertussis and Hib vaccines. "Sanofi is looking at ways to support increased global access to existing vaccines while pioneering new ones for people at all ages of life at risk of catching existing and emerging infectious diseases.
"Researchers are also finding links between infections and other diseases that could open new pathways to better preventive health in the future."
Vaccines today can even help prevent some cancers such as cervical cancer, which is often caused by the human papillomavirus. Similarly, researchers are exploring whether Alzheimer's could be triggered by the herpes simplex virus.4
"Take pertussis and chronic obstructive pulmonary disease (COPD) as another example," said Kovacs. "Recently, the scientific community began to pay closer attention to the role pertussis plays in aggravating or even triggering severe respiratory outcomes like COPD in adults. When it comes to an infection often called 'whooping cough', people tend to think it impacts only children. But pertussis' epidemiology is more harmful than commonly recognized."
One recent study showed that about 13% of seniors suffering from COPD in the UK also tested positive for pertussis, suggesting that pertussis could be a trigger for COPD exacerbations.5 These and other links need further study but in many of these disease areas, the more closely the conditions are tracked and measured together, the more they are seen to connect.
Greater understanding of these links between infections and severe health outcomes previously thought unconnected will allow scientists to tap into whole new areas of healthcare, and to design solutions in the form of novel vaccines and immunotherapies that could revolutionize our current quality of life and how long we live.6
It's an old adage that each new generation should live better than the one before. We believe that promise will hold true in the future thanks in part to vaccines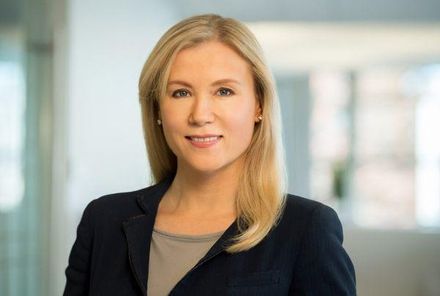 Dominika Kovacs
Commercial Head for Sanofi Pasteur's polio, pertussis and Hib vaccines
In addition, new technologies such as mRNA could help science see an acceleration in the pace of development and delivery of new solutions. "And the COVID-19 experience could lead to leaps and bounds in expectations and demand from vaccines in general. In this new context, it's hard to calculate the true scale of the benefits that could come from vaccines in the future," Kovacs concluded.
There's perhaps then no better time than this World Immunization Week to salute the very meaningful venture of human progress with the help of vaccines.
MAT-GLB-2100738 / March 2021