Breakthrough on Sleeping Sickness
Published on: February 1, 2019
Neglected tropical diseases are normally just that, neglected. They affect people living in remote regions where poverty hangs over every home with poor sanitary conditions and a lack of local capacity to monitor, diagnose and treat.
This makes our development of a new treatment for one of these diseases, human African trypanosomiasis, or sleeping sickness, all the more exciting. The disease, contracted from a parasite transmitted through the bite of a tsetse fly, threatens the lives of more than 65 million people in sub-Saharan Africa. If not diagnosed and treated in time sleeping sickness can prove fatal.
Developed by Sanofi in partnership with the non-profit organization, Drugs for Neglected Diseases initiative (DNDi), the new oral drug fexinidazole is the culmination of 20 years of medical research through international collaborations. It is the first all-oral treatment that is indicated for the treatment of both first-stage (haemo-lymphatic) and second-stage (meningo-encephalitic) of sleeping sickness and will contribute to its elimination by 2020.
While the number of reported cases has continued to drop over the years, from nearly 37,000 new cases in 1999, compared to less than 1,500 in 2017 (with 85% reported from Democratic Republic of Congo), patients have had to travel for treatment to specialized centers, usually far from home. This upheaval can often feed the poverty cycle as patients lose their jobs. The new 10 days treatment, however, will be administered by trained healthcare workers who can deliver pills to patients in their own communities.
This switch in how medicine can be administered changes the whole approach to the disease. "Just 10 years ago, we used an arsenic derivative that killed 5% of the patients. Although current treatments are safe and effective, they must be administered in hospitals and represent a significant logistical burden for health systems. Fexinidazole comes in tablet form: it is a huge step forward in the management of sleeping sickness," says Dr. Victor Kande, NTD specialist advisor in the Ministry of Health of the Democratic Republic of Congo.
Working Together to Boost Progress
We have been a key player in the fight against sleeping sickness since the 1950s. More recently, in 2001, we strengthened our involvement through a partnership with the World Health Organization (WHO), which involved drug donation and financial support for capacity building and patient screening.
Since 2009, we have been collaborating with DNDi, a non-profit organization specialized in the research and development of new treatments for neglected diseases. This partnership led to the development of fexinidazole, according to an alternative non-profit Research & Development model. Fexinidazole received a positive scientific opinion from the European Medicines Agency (EMA) in November 2018, a decision that paves the way for the distribution of fexinidazole in endemic countries in 2019. "We filed the dossier in Democratic Republic of Congo and got the approval on December 24th, meaning 39 days after the positive opinion, which is quite exceptional," says Luc Kuykens, Senior Vice President Sanofi Global Health Programs. "This remarkable timing demonstrates the strong commitment of all partners to tackle the disease."
We will donate the medicine in support of international efforts to eliminate the disease.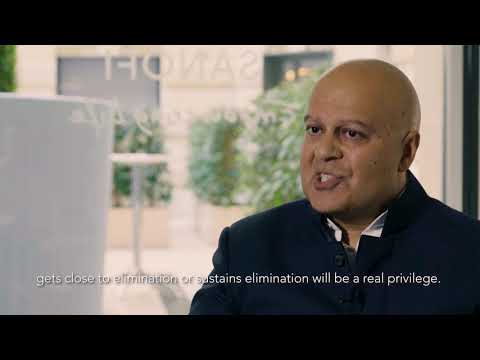 What is Sleeping Sickness?
Sleeping sickness, or human African trypanosomiasis, is a disease caused by a parasite called the Trypanosome brucei, transmitted by a bite from the infamous tsetse fly.
Sleeping sickness occurs in two stages:
Stage 1 – The haemolymphatic phase includes non-specific symptoms such as headaches and bouts of fever, tiredness and muscular pains. This stage generally goes undiagnosed without active sleeping sickness surveillance. Without treatment, the parasite then invades the central nervous system triggering the second phase.
Stage 2 – The later, neurologic phase occurs when the parasite crosses the blood-brain barrier and can lead to serious sleep disorders, paralysis, progressive mental deterioration, confusion and behavioral changes and, ultimately, without effective treatment results in death.